"The Most Epic Battle EVER" is the 15th episode of the second season of Stupid Mario Brothers and the 30th and final episode overall.
Mario confronts Nox Decious in a battle to determine the fate of the Real World...
Mario
walks through the
Orchard
, looking for
Nox Decious
.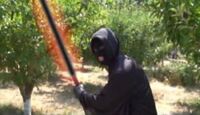 Decious eventually appears behind Mario, scaring him and making him fall to the ground. Before Mario can construct the
Nether Saber
using the
Nether Emblems
, Decious kicks away the items from Mario, making it so that Mario cannot use the items. Decious reveals he knew in advance what Mario's plan was and mocks him for not being fast enough to construct it. Realizing he cannot kill Decious, Mario takes out his own
saber
in an attempt to weaken Decious. He quickly takes out his own saber and the duo confront each other. As the fight progresses, Mario hits the hilt of Decious' saber, destroying it. In retaliation, Decious uses his Dark Magic to destroy Mario's beam sword. Eventually, Mario falls to his adversary's strength.
While Mario, weakened from the battle, lies on the ground, Decious explains to Mario that all he wanted was for his brother to accept him as the chosen one, but was angered when Merlin chose Arthur instead. Once that happened, Decious felt dead inside, and knew the only way to break free from his brother's shadow was to kill him. But before he killed him, Merlin destroyed his face, which is why he wears his mask. That day, Decious made a promise that he would destroy everything Merlin stood for, including Humanity. Mario is the only person left standing in his way. Mario quickly regains strength and slowly gets up. The two then continue their confrontation from fist fights to fireball battles. Eventually, Mario makes a serious blow to Decious by deflecting his shadow ball back at him, using his cape.
No longer amused by their battle, Decious decides to finish Mario off. He slowly chokes Mario, laughing and mocking him. In the shadows, a figure slowly constructs the Nether Saber. Before Decious can kill Mario, the figure, who turns out to be Wario, quickly stabs Decious with the Nether Saber and kills him. Mario is shocked to see that Wario saved him, but Wario reveals that he only saved him – so he could kill him himself.
Appearances
Edit
Characters
Edit
Locations
Edit
Production Notes
Edit