Terence was one of Bob and Joe's employees at RMA Studios.
Background
Edit
Terence worked at RMA Games Headquarters and was always seen opposite Phillip as they would blankly stare at each other.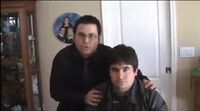 Terence first appears in "Real Jobs Suck" on the right in the black jacket, where he has no speaking line and was just sitting there as Bob angrily ranted at Mario and Luigi.
Terence reappears in "Act 1 Part 3." This time, he is completely different as his actor has changed, but he still remains on the right.
During Bob's rant, when he screamed at Mario and Luigi at they don't publish elephant diarrhea, Terence was disgusted by this. After Mario and Luigi left, Terence admits that he likes their game idea. This angers Bob and he smacks him with his killer tie, resulting in him dead again, as well as being the first to die.
Physical Description
Edit
Coming soon!
Personality
Edit
Coming soon!
Abilities / Skills
Edit
Coming soon!
Relationships
Edit
Coming soon!
Coming soon!
Coming soon!
Coming soon!
Coming soon!
Coming soon!
Coming soon!
Terence has only had one speaking line where in the film, in which he told Bob that he liked Mario and Luigi's game idea. This had him end up getting killed by an enraged and shocked Bob with his killer tie.
Terence's actors have changed when he has appeared. His first actor is unidentified. Though despite the actors changing, one of the men may not be Terence.
The actor who portrayed him in his second appearance's first name is given as Sergius in a Mushroom Kingdom Election episode of YouTube News. Nothing else is known.
Terence and Phillip's names originate from South Park, where there are two Canadians of the same name.
Community content is available under
CC-BY-SA
unless otherwise noted.