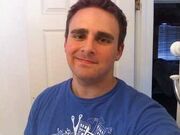 Matthew Thomas "Matt" Provencal (born in the late 1980s) is an American actor in Stupid Mario Brothers.
Provencal currently plays the roles of:
Provencal also plays the co-anchor and random bum in YouTube News.
As well, he plays Albus Dumbledore and Vincent Crabbe in the Harry Potter spoofs.
He lastly plays Bill Summers, one of the news anchors on Super Mario: The Plumber Knight Returns
During the bloopers, Provencal tends to point the camera at an object and state what it is in a funny voice. He also habit of saying "I roll with gangs", changing lines, and saying "20 Dollars!" (Or also known as "Chwenny Dollars" by the Richalvarez channel.) He often goofs around during filming as well, such as throwing cherries at Rich Alvarez in Stupid Mario Brothers: The Movie.

True to his love for making bloopers, he and Rich Alvarez made a video called "Matt's School of Bloopers". A video where he teaches many ways to screw up a scene.

Provencal won 3rd place in the Capital Music Awards.
Between Seasons Two and Three, Provencal shaved his head for a role that he was playing in a theater production of Annie.
Provencal made a video for the MySpace Glee auditions.
Provencal also works at a bar, cafe, and casino.
His personal YouTube channel is http://www.youtube.com/user/MattProvencal.
According to Chris Muller, Provencal "is so awesome because his real middle name is awesome, making him Matthew Awesome Provencal, he doesn't have blood pumping through his veins, he has awesome sauce pumping through his veins" and is most likely the funniest person that Muller has ever met.
Provencal's favorite football team is the 49ers. His least favourite is the Raiders, who Richie likes. These opinions are shown in Matt's video "Wario's #1 team is the San Francisco 49ers".
Like most of the original actors of RMA Productions, Provencal plays both a major protagonist, a major antagonist, and a character who is both in Stupid Mario Brothers.
Sometime after filming Plumber Knight, Matt moved to Chicago, Illinois to pursue his theatre dream.
Matt announced on his YouTube channel that he will be back to film with Richie and Chris for Stupid Mario World and Plumber Knight for 9 days of filming.
Community content is available under
CC-BY-SA
unless otherwise noted.