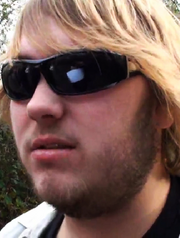 Matthew "Matt" Howlett (born in the 1970s) is an American actor in Stupid Mario Brothers.
Howlett made his first appearance in "You Can't Read My Poker Face!", portraying one of the poker players. Afterwards, he made his big main appearance in "All Good Things...", portraying a new original villain named Blaire Vherestorm. Howlett also made several appearances in Snez Pez.
Howlett currently plays the roles of:
Vercetti Guard
Poker Player
Coming soon!
Community content is available under
CC-BY-SA
unless otherwise noted.