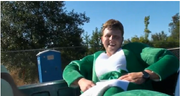 Kevin Chamberlain (born 1989) is an American actor in Stupid Mario Brothers. He has played a couple of minor roles in the series, though his primary role is as Yoshi. Chamberlain also runs his own YouTube channel called KTChamberlain, which is notable for the History of Stupid Mario Brothers videos, in which he gives an analysis and his overall opinion of each season and canon spin-off of Stupid Mario Brothers.
In June 2012, Chamberlain announced himself to be ending his association with Richalvarez. He later posted a video explaining why, his reason being that he would gain nothing out of continuing his work with RMA Productions. However despite this, he appeared in the sequel series The Plumber Knight Returns playing Goomba goons and the video explaining his resignation states that he's definitely still friends with Richie and Chris. In January 2013, Richie and Kevin resolved their differences and decided to sometimes play Yoshi for old times sake.
Chamberlain currently plays the roles of:
Chamberlain is of English descent.
He is diagnosed with Aspergers.
Chamberlain is a history buff.
Although Scott Otter is the actor who portrays Scott Masterson, many fans believe that Chamberlain is the one who portrays him. This is due to a resemblance between the actors, although Chamberlain himself claims he doesn't look like him at all.
He has a strong distaste for the Darkness, finding him annoying and overrated and his numerous revivals to be contrived and poorly written.
Chamberlain submitted a draft of his basic idea for Season Five to Rich Alvarez during the planning stages, but they were turned down without a second glance.
After Richie turned the idea down without even thinking it through, Kevin was so upset he practically threatened to quit RMA and take Yoshi out of the show. Chris took a lot of effort for him to stay, Kevin did stay for the last season but was really annoyed putting up with Richie turning his requests down. He eventually returned to the role of Yoshi (his original role) for Stupid Mario World.
Chamberlain considers every Stupid Mario Brothers installment after the film to be much more poorly written and inferior to their predecessors.
Chamberlain is a fan of the Nostalgia Critic.
Chamberlain believes that casting Matthew Thomas Provencal as Ganondorf was "the greatest miscast in the show" not just because he doesn't resemble a ganondorf, but also because he's acting was too much like Voldemort and Palpatine which was too familiar, and believed Bradley Oliver would've been a better choice.
Community content is available under
CC-BY-SA
unless otherwise noted.