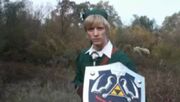 Kent Melville (born in the 1980s) is an American actor in Stupid Mario Brothers.
Melville first appeared in Season Two as Link when the series took a more serious turn. He participated in nearly all of both Seasons Two and Three before moving away during "Act II" of the film; thus, RMA Productions killed off Link. However, Melville ended up returning to Sacramento for the end of "Act II." As well, he was able to return for "The Super Mario Brothers."
Melville played the roles of:
Melville knows how to juggle.
According to Kevin Chamberlain in the History of Stupid Mario Brothers: The Movie Act II, Melville is a Mormon.
As said in a blooper, he uses L'Oreal hair conditioner.
Melville was mentioned by Rich Alvarez as the busiest man on the planet, even more busy than Alvarez himself. Therefore, Link was cut from Act I, because Richie decided to only shoot the scenes that were important for Link. His return for the final episode of the series was arranged a long time before shooting, so that Richie was absolutly sure that Kent was able to appear.
Unlike Doug Orofino, he only returned once for "Act II." He did not return again until "The Super Mario Brothers."
He was replaced by Eric Porter as Link in Alvarez's Machinima series Snez Pez.
According to Chamberlain on his History of Stupid Mario Brothers: The Movie Act II, the reason why Melville made a minor appearance was because he had to go on a mission. Due to this, it was thought that Melville may not have been able to appear in the season finale of Stupid Mario Brothers. However, he was able to come back for the last episode.
In That Stupid Video Game Show, Melville wasn't able to reprise his role as Link since Chris Muller had already taken his role.
Stupid Mario World solved the problem of Kent's busy schedule by turning Link into Linkle, allowing another actor to portray him.
Community content is available under
CC-BY-SA
unless otherwise noted.