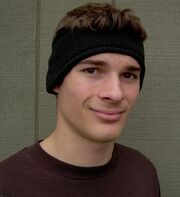 Christopher Anthony "Chris" Muller (born January 13, 1989) is the co-creator of Stupid Mario Brothers and the co-founder of RMA Productions. He has been known to partake in music videos and co-commentate on Stupid Mario Brothers updates.
Muller is Tim Muller's older brother.
Aside from Rich Alvarez, Muller is the most involved member on the Richalvarez channel.
Before Stupid Mario Brothers, Muller was a number of roles, such as Spider in Bored of the Rings, Tristian in King Arthur, and miscellaneous roles in various other RMA Productions films.
He currently plays the roles of:
He also used to portray himself in the Monster Mower films and other sketches.
Muller also portrays the weather man in YouTube News. He also played the co-anchor (temporarily).
He also portrays Gregory Goyle in the Harry Potter spoofs.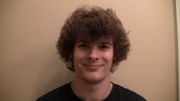 Muller has been known for having the most changes in hair. It is brown and has been curly, short, and straight at many times.
After an episode of Wiki Weegee, Muller had a haircut. At the end of the video, there was a picture of him before his haircut with text saying, "RIP Chris's hippie hair- ten months in growth," showing how thick his hair can get in a short amount of time.
Muller's favorite video games are The Legend of Zelda and Banjo-Kazooie.
Muller is Tim Muller's older brother. He also has a sister.
Muller is 2 years younger than Rich Alvarez.
When holding the camera, he occasionally tilts it back until his face can be seen, then speaks in an unusual voice.
In real life, Mario's house is actually Muller's house.
Muller owns his own channel called SilverShadow721, which is where he uploads Wiki Weegee.
Like most of the original actors of RMA Productions, Muller plays both a major protagonist and a major antagonist in Stupid Mario Brothers.
He was in track team in high school.
Occasionally, Muller uploads videos on his YouTube channel for Wiki Weegee, where he answers questions from his fans about himself.
Community content is available under
CC-BY-SA
unless otherwise noted.