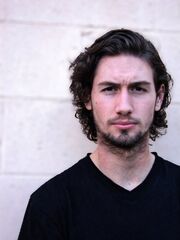 Austin Stevenson (born in the late 1970s) is an American actor who primarily starred in Richalvarez videos. Before Stupid Mario Brothers, Stevenson was a prominent member of Randumb Productions. His first role in the series was Brock. He has since performed several roles in the series, like his closest friend Julian Petruzzelli.
Stevenson moved to San Francisco in the middle of Season Three's production, but returned for the summer and participated in "Act I" of The Movie and managed to make a brief appearance in "Act II Part 6." He reappeared in The Interactive Adventure as the special's writer and appeared as several characters. He returned in Seasons Four and Five, reprising his role as Brock.
As of July 2012, Stevenson, along with Petruzzelli and Daen Olson, have moved to San Diego and are no longer affiliated with RMA Productions. However, he is set to reprise his role as Brock in the upcoming Stupid Mario Brothers sequel, meaning that he has rejoined RMA Productions. 
He and Daen Olson made a spin-off called Stupid Pokémon Friends which got cancelled due to tension between their channel and RMA Productions.
Recently, he and Dane Kevin Cook have started their own YouTube show called Whatever We Want. So, it's unlikely that he'll return to RMA Productions in the near future.
Stevenson currently plays the roles of:
According to the intro video's description, Stevenson was the writer of The Interactive Adventure.
Stevenson and Julian Petruzzelli consider each other brothers.
He, Daen Olson, and Petruzzelli have officially separated from RandumbProd working with Richalvarez fully.
In FAQ 3, he reveals that his favorite Mario game is Pokemon Yellow Version and that his favorite villain in Stupid Mario Brothers is Ash Ketchum.
His favorite actor is Brad Pitt.
Stevenson's personal Youtube channel is AustinsPlayhouse. Which is where he releases Stupid Pokemon Friends.
Stevenson is one of the tallest members of RMA Productions.
His mother tells him she loves him (really, she does). He says she is always his valentine.
Stevenson is addicted to KFC. His goal is to know everyone there by their first name, and their kid's first name.
Like most of the main actors of RMA Productions, Stevenson plays a protagonist and antagonist in Stupid Mario Bros.
Community content is available under
CC-BY-SA
unless otherwise noted.